Urgent! We Need Your Help!
Ken's Blog
NOTE: This post will be updated periodically. Click here for my updates.
---
Every now and then, business throws you a curveball. That happens.
Every now and then, it throws you a beanball. That is a damaging blow to the head. This is one of those times.
Facebook has thrown a beanball at us without a word of warning. It has killed our Facebook page.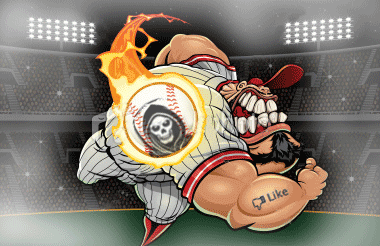 Yes, it has literally removed our SiteSell Facebook page… no warning, no details, no recourse.
Just a notification that our page had been "removed." (My e-mail reply to them appears at the end of this post.)
All that energy… the contests, the creativity, the work. You had to see the passion and excitement of the admins who make SiteSell Facebook happen. And now? They are destroyed.
In a second, 16,000 fans disappear. SBIers and SiteSell Facebook fans are not meeting, interacting, doing all the good and wonderful things that have evolved since the months that we started. A piece of SiteSell has been amputated.
I am blogging about this here to start a public debate about this Facebook policy ("execution without trial"), and to ask for your support to reverse this action.
If one of our admins has made an error, so be it. I am willing to be red-faced and say, "Sorry." But I cannot imagine what we could have done wrong, let alone anything that would remove the page of a non-repeat infringer.
You know the way we work. We just don't do that, never received a hint of a warning.
Not only is this devastating for the whole team and for the company, but it raises the major issue…
If Facebook can unilaterally pull your Facebook page after months/years/decades(?) of work without the right to face an accuser, without any details, what is the value of a Facebook page for business?
I really need your help with this…
This is the age of the social Web. Please spread this word to everyone you know, from friends who barely know how to turn on a computer to gurus of social media.
Spread it with class, with fairness… without exaggeration or maliciousness. But please do spread it far and wide…
This is arbitrary and hurtful at one level, and it reduces the value of building a Facebook business page to "waste of time" at the higher level.
The conversation should not be on our blog. Please move it to other blogs, to newspapers.
Please do not let this outrageous policy stand.
Thanking you for all your help,

P.S. This may be some sort of standard operating process that will resolve by itself within 24 hours. But we cannot afford to take that chance.
If it is, it is immense overkill. The Facebook notification is clear and ominous. Facebook has "removed" us, which is something that they only do for "repeat" infringers (according to their documentation). And we have never infringed.
Once you start communicating with a big company, it can drag for months. We need this resolved now.
For your information, here is the letter that I sent to the Facebook team that handles this…
Some of the admins of our SiteSell Facebook page received an email from you. It said:
Hello,
We have removed your Fbpage: SiteSell from Facebook
because we received a report alleging that it infringed
or violated the rights of a third party, and/or because
we have reason to believe that you are not authorized to
represent the subject matter of the Page.
We strongly encourage you to review the content you have
posted to Facebook to make sure that you have not posted
any other unauthorized or infringing content. Please
keep in mind that it is our policy to terminate the
accounts of repeat infringers/violators when appropriate.
If you believe that we have made a mistake in removing
this content, then please visit
http://www.facebook.com/help/?page=1108 for more
information.
The Facebook Team
We don't "infringe or violate the rights of third parties." If you have a complaint of that nature, that third party is either mistaken or malicious. And I assure that we are "authorized to represent the subject matter of the page."
Further to your letter above, we cannot "review the content[we] have posted to Facebook to make sure that you have not posted any other unauthorized or infringing content," since the page was taken down within minutes.
Nor are we "repeat" infringers, let alone infringers.
We have recently complained to Facebook that Volusion.com was using our trademarked name, SiteSell (along with those of Yahoo! and other small business companies), in their Facebook ads. We have not received any action on this matter from you, so we assume that you allow others to take advantage of trademarks (that they do not own) in the text of FB ads, unlike Google. We have not complained further about that.
In any event, we do not violate third party IP. Quite the opposite, we focus on original content and visitor engagement. We have an excited group of employees who work on the SiteSell Facebook page with joy and passion. It has grown steadily and is an immense source of pride for everyone here at SiteSell.
Please read the material on that page. You will see that fans love the page and SiteSell.
We have spent a great deal of time and money building this page, and we know that you would be aware of the damage to our reputation ("infringers") of unilaterally pulling down a page of a high-profile company that has devoted so much time and energy into our Facebook presence.
I have visited the page to which you refer us…
http://www.facebook.com/help/new/?page=1108
I can not begin to guess at anything that we may have done to cause this complaint, or your action. We are neither infringers nor "repeat infringers" (for which you take down pages, according to that help page).
We notice that you have left us access to our ads, however. We have paused them as it makes no sense to continue to send traffic to a page that does not exist.
Either this was an accident/mistake or this is for real. If the former, please put our page back up as soon as possible. If it is the latter, please provide details so that we may respond to them.
Time is of the essence.
Thank you very much.
Ken Evoy,
Founder, SiteSell.com
cc's were sent to our CEO, legal counsel and a New York Times journalist
Updates
I'll be posting updates here until our Facebook page is back up and we get to the bottom of this.
---
Update 1: June 2, Noon
We have not heard back from Facebook – not from the group that I replied to (above), nor from the FB person who may have mistakenly misinterpreted our complaint about Volusion misusing OUR Intellectual Property. We have, however, found out that this "guilty-until-the-complainant-withdraws-the-complaint" approach is common. See…
Facebook shoots first, ignores questions later; account lock-out attack works (opens new browser tab or window)
It is staggering how EASILY anyone can file a complaint and get a Facebook business page taken down. What is the point of having a page?
We had rightly complained about Volusion.com abusing our trademark in their ads (along with Yahoo! and many other prominent trademarks. It's quite possible that they maliciously got back at us by filing a false complaint — THAT is how loosely and badly Facebook seems to run this program.
Given Facebook's failure to respond, given their history of letting these wrongs drag for months, and given our refusal to accept "guilt without a hearing, guilt without evidence and guilt without the right to face one's accuser," we are escalating to the first level…
We are drawing up a list of actions for the only ones who care how this turns out… our customers and fans. We need YOU to help get this unfair reaction reversed. Please start by sending an e-mail to the group who makes these decisions. Their address is…
Please e-mail Facebook and let them know what you think of SiteSell, what you think of Facebook's unilateral, unfair judge-jury-executioner approach, and ask them to reverse this action at least until SiteSell has been properly informed of the charges and has a chance to defend itself. Ask, too, what the point of a Facebook page is if it can be removed by Facebook at the whim of any complaint.
---
Update #2 June 2, 7PM
We have not heard back from "The Facebook Team" that we e-mailed. However, we submitted an appeal through the appeals form.
We received an e-mail back from "The Facebook Team." This "team" e-mailed us from following e-mail address…
info+jj3rasg@support.facebook.com
Here is what they said…
Hi,
Thank you for your email. Please note that the form you submitted is only meant for users to appeal the removal of their Page because it violated our Statement of Rights and Responsibilities. Therefore we do not offer support for general Page inquiries or the Page authentication process.
Please visit Facebook's Help Center to view frequently asked questions regarding the Pages product. You can reach this section by clicking the link below:
http://www.facebook.com/help.php?page=175
If your appeal was for the removal of a Page of which you were an admin, please respond to this email and we will review your situation.
Thanks for contacting Facebook,
The Facebook Team
Nice to hear from someone.
But there's only one problem…
We are "users [who are] appealing the removal of their Page." We used the form specifically to appeal the removal of our page.
Why would a team that specializes in appeals not recognize an appeal from a page that they have taken down? Worrisome.
Up above, I said…
"Once you start communicating with a big company, it can drag for months."
Now you see why.
We have replied to the "FB Appeals Team" non-answer, explaining that appealing is EXACTLY why we used that form. But we won't hold our breaths waiting on this Facebook Appeals Team — we'd suffocate if we did…
After all, they can't recognize an appeal.
We need your help more than ever.
Thanks very much for your support to date. If you keep building this, we WILL emerge with our page re-instated.
Please keep it up!… 🙂
1) continue to contact Facebook and protest directly about how wrong this is….
2) Please tweet this story. Tweet if for all you're worth to the media. For example, here's one such post…
"@CNN Facebook removes Canadian Company Fanpage with 16000 fans, no reason, no chance to defend. Are FB pages worthless? http://bit.ly/jpc1Cd"
Please find journalists. Search for named journalists. Tweet the story at them. FB Biz Pages are worthless if Facebook can take them down on a whim. And THAT is major news.
3) Facebook it to social media experts. Like I said, this is a huge story…
Facebook Pages Are Worthless If FB Can Pull Them Down on a Whim
4) Do you have a friend who works at Facebook? Please ask for that person's help. We don't deserve this and just need an honest-to-goodness human to use some common sense.
---
Bottom Line
We've been down for over 24 hours and not a whiff of any type of explanation from Facebook.
Abysmal.
We'll be following up with a press release in our next update.
---
Oh yes, one more note. We are NOT putting up any SiteSell pages. If you see any, please ask people to take them down. They are NOT from us. They are only confusing matters.
Instead, send them to this blog post
Thank you so much, everyone. Your support means a lot right now. This is profoundly upsetting.
Update 3: June 2, 7:30
I have gone from upset and depressed (I love our FB page) to anger, with no room for relief and happiness in between.
Yes, we're back up, but without a single note from FB. SiteSellers will keep the pressure on FB for an answer. After all…
NOT EVEN CHINA EXECUTES SOMEONE WITHOUT A TRIAL.
Unacceptable policy, unacceptable communication.
Although I absolutely love what happens on our FB page, what's the point when even one of the most spectacular communities on the Web can be "removed" on a whim, on the say-so of one competitor?
This shakes my confidence in both the "Facebook The Product" AND "Facebook The Company." We'll get answers.