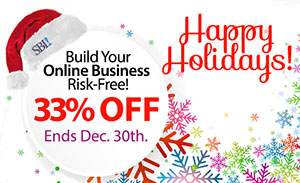 The Holiday Special Has Ended
Welcome to all the new SBIers!
This Holiday Season, give yourself a gift. The kind of gift that has a lasting impact on both you and your family: SBI!
Create a business around your passion and love your work!
Determine your own schedule.
Create financial security for you and your family.
This is how you can turn your idea into an income, and there's no better time than right now, during the SiteSell Holiday Special. For less than the cost of a cup of coffee a day, you can create an opportunity for yourself — one that lasts much longer than that Peppermint Mocha Latte.
Everything to Build a Real Successful Online Business

Some website-building companies would have you believe that all you need to start an online business is a beautiful website. But what good is a site if you have no customers? SBI! offers dozens of great mobile-friendly site designs and we show you how to fill your site with motivated, targeted customers, at a very competitive price.

Learning and Guidance
Start with our Action Guide — an easy-to-follow, step-by-step guide to building your business online. It's available in written, video and audio versions. Use whichever is best for your learning style.

Work when and where you want to. With professional support and a powerful community of online solopreneurs at your side, you're never without answers or additional skills.

Brainstorm It!
Like a search engine bloodhound, Brainstorm It! finds you a strong set of topics that are related to your content. It tells you how many people are seeking each of those keywords. Before you even build your first web page, you will have tweaked your niche to perfection, know how in-demand it is, and how well you can monetize it.

Build a Beautiful Web Site
No code necessary. If you can drag and drop, you can design your own website. Or customize one of the dozens of pre-built, mobile-friendly site designs we offer. Of course, hosting and email are always included.

Traffic-Building
Without user traffic, the most attractive website is still a lonely place. SBI! helps you attract more customers. The technical items that make search engines love your site more are handled in the background — letting you focus on your customers.

Get Social
Whether you post it, tweet it or pin it, social media is a big part of online business. Make your customers feel like part of the family and make it easy for them to share your content and drive more traffic. SBI!'s BlockBuilder lets you add social sharing buttons to your pages with just a few clicks. And the Action Guide, webinar recordings and articles will help you make your fans and followers feel right at home.
Make More Money
Your site is your real estate; sell ad space, attract sponsors, market your own skills. The tools in SBI! guide and coach you toward the ultimate solopreneurial goal: a profitable online business.

The SBI! Forums and Your Support Staff
Our goal is your success. So when you need help, we're on the job. From private user forums to celebrity video hangouts, SBI! provides the guidance you need to grow a vibrant business.

All this for less than a dollar a day Get Started Today!
The Proof Is in What Our Customers Are Saying...

"I no longer feel stressed when one of my kids needs to stay home from school. I can take care of them and still work on my business."
– Crystal Maleski

We work on our business full-time, but between the two of us, and looking after our kids, it's more like each of us works half-time.
– Stephanie and Tobias Locsei

I love owning my own business! I work when I want, for however long (or little) that I want, and I do it wherever I want.
– Rachel Bruner

I'm excited to report that I've reached the $5k+ sales mark already for December.
– Jill Loeffler

I get an idea, and I can make plans to implement it. I have complete control over all aspects of my website.
– Patty "Sassy" Knutson

I was able to quit my stressful job and work on what I am most passionate about.
– Darlene Abarquez
Order SBI! Today! Get Started
SBI! Is the Perfect Gift, No Matter Who You Are

GIFTED ARTIST
Do you make the most amazing acrylic nature paintings, charcoal sketches, miniature clay sculptures, shopping bags from recycled coffee packaging, or any other beautiful art, but live on a mac & cheese diet and take on five side jobs just to get by?
Now is your chance to transition from "starving artist" to successful artist! SBI! gives you the platform and the method to show your art to the right audience. You'll finally receive the recognition and financial rewards your work deserves.
---
STUCK IN A DAY JOB
How many times do you talk about the Monday Blues, or post "TGIF" to Facebook?
Do you cry while watching Office Space because it's too similar to your own office?
Now's the time to break out on your own and get unstuck. Get SBI! and turn your passion into a profitable online business.
While online solopreneurs often work harder than regular 9-to-5ers, nothing beats the sense of freedom, joy and passion that comes from generating income from your own niche-based business. Own your life and ditch the boss - or add a second income for family vacations and to save for college.  Whatever your goals, your life is yours!
Don't waste away in that office cubicle. Get Your SBI! Now.
---
THE DREAMER
Does this sound like you?
Myra works in HR at a local company. On days off she enjoys water skiing, cycling, running, golfing, and tennis, and dabbles in a few other sports. She loves music and has taught herself how to play the djembe and the guitar.
Myra is also passionate about art and talks about its history and different artists. She often goes to galleries and artisan shows. She travels quite a bit too, but is not one to do a beach vacation, preferring instead to take educational tours or visit historical landmarks.
Are you thinking what I'm thinking? With all those hobbies and interests, Myra is the perfect candidate for an SBI! site! Just think, a year from now, she could potentially leave her day job.
She would have more time to pursue her passions and dreams, while earning income by taking just one and turning it into an online business.
Here's an even better idea! You can turn your ideas into an online business this Holiday season!
Turn Your Dreams Into Reality With SBI!
---
BUSY MOM
It's almost Christmas and you've been busy making your lists and checking them twice, racing to holiday events, shopping late at night, wrapping, cooking, cleaning and doing all the things a good mom does during this festive but hectic season.
Out of sheer exhaustion, you pause for a few minutes. You begin to daydream about what it might look like if you could be home more than work allows. Or what you could do with some extra income while you stay at home with the kids. More importantly, you think about how much you want to do something you're passionate about in addition to your all-important role of being a mom.
This could be your year to start a business from home. Don't let the word "business" scare you. Building an online business is totally doable and provides the flexibility and income you need to stay home with your children.
You'll be able to fit your business hours around your family schedule. Early in the morning before breakfast, during afternoon nap time, or in the quiet of the night. You decide when and how long you are going to work each day.
You'll start by choosing a niche that you are passionate about. You may already know what you want to do — or you may need some time to figure it out.
Once you have that seed of an idea, what else do you need?
Enthusiasm, motivation and creativity
A willingness to work hard, learning as you go along
Patience and forethought
Just like raising a family, building a successful business takes time.
You also need the right guidance and the right tools, at an affordable price. Whatever you spend money on, it must produce results. SBI! is the solution. Get it for yourself this Christmas and...
---
LOCAL BUSINESS OWNER
Jeannine just opened her new fitness center in her hometown. She's got a great location near the business district, so she'll attract clients before and after work and during lunch breaks. She has a small list of contacts she's been asking for referrals.
It's tough to start a new business. With SBI!, her online presence (ex, website and Facebook) attracts prospects from a wider radius, builds relationships and finally helps grow her offline business. Combine that with the usual local offline marketing efforts to generate strong "local biz" growth. SBI! shows you how to do it right.
Does that sound like you? You may already have the equipment you need, that idea for a business. Give yourself the one piece of equipment you're missing... SBI!. Soon, you will be the fitness guru you know you are! (And when you get on TV, the world will know it, too!)
---
MRS. CLAUS
"Do you know what it's like, living with Kris? One night of the year he's gone all night long, riding that rickety old sleigh of his all over the world like he's some teenager. And the rest of the year, nothing but milk and cookies and lazily sitting around the North Pole."
"Well I've had it."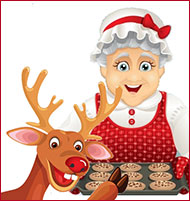 "This year, I'm giving Kris a membership to SBI! He's always wanted to share his passion for reindeer-keeping, and I need him to find something to do with all that spare time in the summer!"
"I'm going to help him write content for the site by sharing some of my alfalfa recipes, and the extra income we make will help Kris pay for that tropical vacation he's been promising me. ;-)"
"I'm off to get Santa started on SBI! right now!"
~ Mrs. Claus
---
Interested in using the SBI! process on the WordPress platform? SBI! for WP offers all of the same benefits and works with the most popular CMS on the planet. Get Started with SBI! for WP today!