You
can

live the dream of working from home
Sign Up!
Provide your email address below and we'll keep you posted about featured "Work From Home Revolution" events and releases. (Your info is completely safe - we hate spam too.)

IT'S TIME TO THINK OUTSIDE THE "CUBE"
There is a emerging movement to combat the natural enemy of the office worker. We call it The "Cube" - as in, the cubicle. This grey-walled monster is the symbol of the growing distaste by those seeking a work life full of fun, freedom and balance.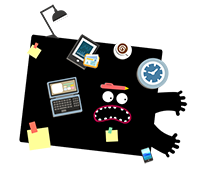 Our Nemesis. ;-)
You don't need to work in a stifling, claustrophobic office. You don't need to put up with a grueling commute. You don't need the office drama. Escape the cube...
Working from home is not only more pleasant than all that, but it can be highly productive as well. Discard your notion of the traditional office environment and think outside the cubicle.
MAKE WORKING FROM HOME A REALITY
Stay tuned as we explore the "Work From Home Revolution" with articles, videos, contests and much more! Discover how you can work from home and do it successfully.
Explore your options and learn about the many advantages of this increasingly popular lifestyle. We'll help you avoid the common pitfalls on your path to becoming more flexible and independent.

With sophisticated yet simple-to-use technology and communication solutions, there's simply no better time to consider this combination of home and work life. So join us for the next 8 weeks while we empower you to take control and live the life you've dreamed.
Are you ready to affect real change?
Join the work from home revolution!