"Doctor Golf"
When Jimmy qualified for the "biggest money" tournament of the year, the headlines read like this one -... "Vandette Stuns and Joins Talbot" (Talbot is Quebec's finest golfer -- he was the only other to qualify for the 4 player "Skins" tournament).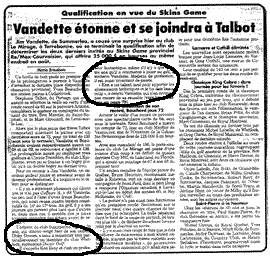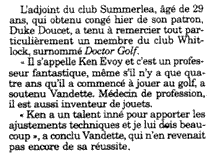 Translated, the quote means,
The Assistant pro from Summerlea Golf Club, aged 29, who got the day off from his boss, Duke Doucet, took the opportunity to especially thank a member of Whitlock Golf Club, nicknamed Doctor Golf.

"His name is Ken Evoy and he is a fantastic professor, even if he only started golf four years ago. A doctor by profession, he also invents toys.

Ken has an innate talent to bring about technical adjustments and I owe him a lot," concluded Vandette, who could still hardly believe his victory.
When he "stunned" everyone again and won the tourney in July, 1996, this article (below left) in Montreal's largest newspaper, La Presse, was indicative of the press coverage.
A blowup of the circled section appears to the right -- the winning golf pro, Jimmy Vandette, gives me all the credit for his victory. What a thrill! And what a classy thing to do.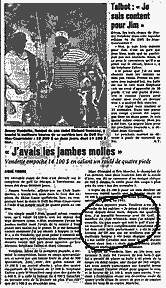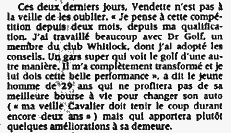 Translated, the quote means,
I have been thinking about this competition for two months, since I qualified. I worked hard with Doctor Golf, a member of the Whitlock Golf Club, and from whom I accepted advice. A super guy who sees golf in another light, he completely transformed me and I owe this terrific performance to him.
He was even more glowing in his praise on television. I love to help people, and he deserved his fine victory -- I was more thrilled than he!