Solo Build It!'s Action Guide is your reliable business building partner. Its combination of core information and simple instructions empowers you to grow a long-term, profitable online business to be proud of — whether you're a beginner or have some experience.
SBI! methodically guides you through every part of building a business...
from the beginning (evaluating, picking and refining your business concept)
to the "end" (growing the largest and most stable income possible)
and every single step in between.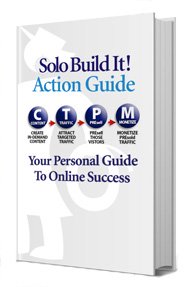 Step by Step
SBI!'s Action Guide breaks the complex project of business-building into 10 (metaphorical) "DAYs." Each DAY is one major advance in the process.
Everything that you need to know and do is in the Action Guide. It's also all that you need — you won't waste time following useless info, or make mistakes due to bad info.
This approach works — SBI! has an unmatched proven track record.
Much More Than a Method
While the Action Guide is the core, there's much more to SBI!. You also require the right tools to optimally execute many of the non-sitebuilding steps (e.g., refining niche selection or maximizing passive social signals). With SBI!, there's no need to search for plugins or addons — they're built-in and ready to go.
SBI! didn't start this way. SBIers taught us what they needed. For example, the firehose of articles related to AI, SEO, AdSense, GDPR, etc. was unmanageable 10 years ago. Imagine keeping up with it all today. We do that for you! Also...
Help and Advice When You Need It
Most people need a little help at some point. SBIers get as much as they want from a community that cares, in our private SBI! Forums. Everyone genuinely wants to help, and we all work off the same "playbook" (a big advantage). And oh yes... no one has a hidden agenda or tries to sell you a thing.
It's all part of what make our guidance and community unmatched in the industry.