Why Do Universities Choose Solo Build It!?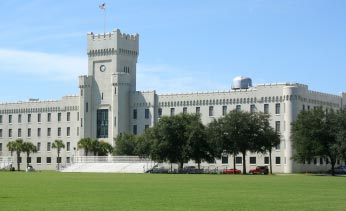 Solo Build It! (SBI!) is designed to enable the average, non-tech person to "Do It Yourself." Enjoyed also by the Web-savvy power user for its dollar savings, all-in-one time efficiencies, and profitable results, it has recently been discovered by institutions of higher learning.
Accredited centers of higher education are selecting SBI! as the way to teach undergraduates, MBAs and Continuing Education students how to use the Web to build a successful online business.
View our Partnering Institutions
Why offer SBI! as the way to build an e-business? Major centers of learning are careful when choosing partners. Due diligence leads to the same conclusion over and over again...
Solo Build It! (SBI!) is the only way for students to emerge from a 10-week course with much more than mere theory. They graduate with a critical life skill and a genuine business.
University Feedback
The feedback of the educational institutions after offering the course is universally positive. For example, Diana Shoaf, Treasurer of The Citadel Military College of South Carolina, took the course and said...
"Sometimes in school we seem to learn things that we wonder if we will ever use again. This course is certainly the most relevant course I have ever taken."
Debbie Fisher, Manager of IT User Support Services of The Citadel, notes that this course is...
"... the easiest, most comprehensive way I know to create and manage an on-line business."
And J. Michael Alford, Ph.D., Professor Emeritus of The Citadel School of Business Administration, wrote to us to say that the SBI! course...
"... is and will continue to have a long term impact upon the educational process at The Citadel and as far as we can tell now, around the globe."
Nadia Bissada, Manager of the Centre for Training & Development at Dawson College, raves about the course...
"Last December, I attended an end-of course (graduation) event. Student's positive testimonials and enthusiasm about their learning experience and its potential dividends were overwhelming." (Ms. Bissada also later took the course.)
It Is Not Just The Educators Who Rave
Every time we conduct the course (and we give them at colleges from Alaska to Zambia), the Graduation Ceremony is strikingly emotional. To understand the experience from the students' perspective, watch this short video of a gathering after the final class...
Here Is A Sample Of Universities And Colleges That Have Offered Or Are Currently Offering
Much More Than "just another course..."
The University of Arizona is a premier, student-centered research institution. Established in 1885 as the first university in the Arizona Territory and the state's only land grant institution, the UA embraces its three-fold mission of excellence in teaching, research and public service. Now in its second century of service to the state, the UA has become one of the nation's top 20 public research institutions.
Penn State is a "Big Ten" internationally renowned University offering baccalaureate and associate degrees and certificate programs taught by award-winning faculty. It's a teaching/learning/research institution for undergraduate education and for lifelong learning. With a small campus with many educational, cultural, and social resources, it partners with the community to improve the quality of life through contract training, enrichment programs, and service projects. Penn State is committed to the highest quality in teaching, research and scholarship, and service to its campus, students, community, and professions.
The Citadel, founded in 1842, is a coeducational military college with a rich and storied history. Located in Charleston, South Carolina, the institution offers a classic military education. Its alumni include 6 State Governors, 3 U.S. Senators, 12 U.S. Congressmen, 5 U.S. Ambassadors, 24 Three-Star Generals.

According to the US News and World Report, 2008 (the authority on College rankings in the United States), The Citadel is "Ranked No. 1 in best value among Southern colleges." SBI! is offered at the Citadel School of Business Administration.
Baruch College is part of the City University of New York (CUNY) system. Baruch's 15,500 students, who speak 110 languages and come from 160 countries, have been repeatedly named the most ethnically diverse student body in the United States. Baruch is ranked among the top 10% of U.S. colleges and named one of the 50 best value public colleges.
Gardner-Webb University is a private university located 40 miles west of Charlotte in Boiling Springs, North Carolina, USA. The school has a total of 14 academic departments offering Associate's, Bachelor's, Master's and Doctorate programs in 45 major fields of study, including business (33%), education (29%), and the social sciences (15%). The main campus is situated on nearly 200 acres, with an additional 16 satellite campuses located throughout North Carolina.
Continuing Education at University of Wisconsin-Fox Valley (UWFox) works with 13 campuses of the UW Colleges and other partners to provide a variety of educational opportunities, including online learning, conferences, customized training, summer youth programming, traditional on campus courses, educational travel, and certificate programs.
University of Alaska Anchorage (UAA), is Alaska's largest post-secondary institution. The campus is surrounded by lakes, ponds and wildlife, and is connected to a city-wide trail system perfect for students' active lifestyles. UAA is fully accredited by the Northwest Commission on Colleges and Universities. In addition, many of the colleges and academic programs are individually accredited through professional licensure organizations.
Graceland University was founded in 1895 and has an enrollment of 2,351 students. The University's main residential campus is located in Lamoni, Iowa and offers 43 undergraduate majors and 60 degree options. The SBI! course is offered to regular full-time (undergraduate) students.
Algonquin College, located in Ottawa, Canada, offers 140 applied degrees, diplomas, and post-graduate programs. Algonquin College is the largest college in eastern Ontario. It provides state-of-the-art technology and facilities for over 15,000 full-time students in advanced technology studies, business, media arts/design, health sciences, hospitality, and tourism.
TAFE SA is the largest provider of vocational education and training in South Australia. TAFE SA's many campuses stretch from the heart of the Adelaide throughout the suburbs and out to the north, south east and west of rural and regional South Australia.
Dawson College is located in the heart of downtown Montreal, Canada in a historic building on 12 acres of green space. The College's student population numbers approximately 10,000, with day and evening students enrolled in more than 50 fields of study.
Humber Institute of Technology & Advanced Learning is one of Canada's leading learning solution providers, offering specialized bachelor's degree programs in addition to diploma, certificate, apprenticeship, and post-graduate programs. Based in Toronto, Canada, Humber is one of 12 Vanguard Learning Colleges in North America, selected for its excellence in education and training.
Palomar College is a public two-year community college. The Palomar campus is located in San Marcos, California, approximately 30 miles north of San Diego. Palomar enrolls approximately 30,000 full-time and part-time students. Students may choose from over 200 associate degree and certificate programs, complete the first two years of a bachelor's degree, or enjoy personal enrichment classes for lifelong learning.
So... Why Do Universities Choose SBI!?
Major schools are careful about their partners, especially in the "private sector." They do their due diligence carefully. Only SBI! is offered in higher institutions of learning because only SBI! delivers success.
You can be sure that SBI! is, indeed, "the real thing."
Government-Sponsored SiteSell Education Programs
Fully subsidized SBI! Education Programs are currently available in British Columbia, Canada, and Ireland for eligible individuals.
Professional associations, government groups, and non-accredited educational organizations have also affiliated themselves with SBI! as an educational resource for its constituents.
For example, SiteSell Inc is an Approved Education Provider by the Registrar REBBA 2002 (Real Estate and Business Brokers Act 2002) and SiteSell Education's course "Building a Successful Real Estate Business Using the Internet" is approved as a Training Program by the Registrar, REBBA 2002.
An increasing number of accredited learning institutions around the globe (ex., U.S., Canada, U.K., Netherlands, Australia, Africa) are adding SBI! to their curriculums, as illustrated below...