Make Your Knowledge Sell!
You -- Yes, You -- Can Write
A Profitable E-book!
Really? You, write a book? A saleable manual? A how-to guide? Yes, you can! There's an e-book in everyone. And yours is based on what you already know.
After all, you're unique, right?
You know stuff other people don't... things people would pay to know.
So you're already very close to profiting from your knowledge.
Now you just need to know...
How to pull it out of your brain
How to publish it
How to sell it on the Net
In other words, how to Make Your Knowledge Sell!
By no small coincidence, "Make Your Knowledge Sell!" is the title of the book that Monique Harris and I have written... a proven system for creating, publishing and marketing your infoproduct, yourself.
"Make Your Knowledge Sell!" makes it possible for Y-O-U to develop and sell your infoproduct!
My co-author Monique Harris started out pretty much like you. She didn't use rocket science to achieve her tremendous e-publishing success.
In fact, not so long ago, Monique was an ordinary receptionist. But she wanted to learn more, and do more. A college dropout... but sincerely interested in searching herself for knowledge and capabilities that other people wanted, too.
So Monique wrote her first book, fine-tuned it, promoted it... and within two short years (well, they seem short now!) she was profiting daily from sales on the Internet -- and had become an infopreneur and speaker earning $100K+ a year.
Now she's joined forces with me to publish this fantastic guide that enables other "ordinary" people to do exactly what she did. (Although, as you'll see... no one is really "ordinary," right?).
MYKS! shows you clearly how to create and publish your infoproduct. Then it shows how to build traffic that will buy from you on the Net.
It's all here. So, to answer the question that so many people ask...
Yes, you can sell your book!
But first things first... How do we know you have in you something worth reading -- something people will pay for?
If Monique Harris found it, you can!
Consider these few examples... taken from the experience of other "average" people (or at least, they thought they were average)...
A housing contractor, considering semi-retirement, is looking for an easier line of work. E-publishing sounds interesting, but he's spent his entire professional life with his head in blueprints. What could he possibly have to offer as an author? Hello? He's a walking gold mine to any homeowner or potential homebuyer! Like very few others on this planet, he knows what contracting scams to watch out for... how to get lumber at cost... traps to avoid... checklists galore for doing just about everything in home construction... and much, much more. Sell it, fella!
A middle-aged woman is looking for an income stream that she can pursue from home, because she spends a lot of time taking care of her parents who live with her. She knows she has the energy and interest to become an e-author, but what to write about? What to write about??!!! She knows more than 99% of the population does about living with and caring for elderly parents -- and with today's aging population, that's a book market that's growing daily!
Other examples... Where have you traveled, what did you learn, and what mishaps can you help others avoid? Yes, there are already hundreds of travel books -- but who needs a huge book on an entire continent when they're only visiting the locale you know so well? For that matter, who knows your own city better than you? Wouldn't you love to show it to tourists and business travelers yourself? Do it! Twenty-seven years old and like to bar-hop? Create your ultimate insider's guide to the best spots in town.
What problems have you faced, or what mistakes have you made? How did you solve or fix them? What would you have paid to avoid them? What did you learn? Present and promote your knowledge properly, and others will pay to learn from your experience.
Still looking for your own example for this list? There are so many possibilities that the mind boggles. Make Your Knowledge Sell! (MYKS!) shows you how to find your special niche. Here's just one more real-world example for now...
How long have you been in your business? 10, 20, 30 years? You've learned so much, so gradually, you don't realize how much you know! It's a lifetime of information that people will pay for! Get started writing now!
Everybody has literally hundreds of starting points!
All you need is some guidance and a plan of action that you can follow.
And we're not talking about just coming up with a few hopeful ideas. We're talking about creating a fertile, fully developed idea farm!
More on that in a bit. But first...
MYKS! is the complete package
Let me emphasize that MYKS! covers far more than finding your subject. It's the entry point to a true infopublishing business. Our entire book supports you with a step-by-step approach to publishing.
What are the questions...
... and the answers?
How do you brainstorm exciting ideas?... How to develop and publish it?... How do you promote it?... Who will read it?...Will it sell?... How should you process orders and "ship" your infoproduct over the Net?
The answers are what makes the difference between "wannabe" and "highly profitable author and Internet infopreneur." If average-person Monique Harris can make that leap...
... you can do it, too!
Just as you will, she discovered that people wanted to learn about what she already knew. All self-taught. Self-promoted. And she's pocketing the profits herself, too.
Of course, you will have one huge advantage that Monique did not... you will have her book!!
Monique's book provides years of street-fighting experience.
Without the hard knocks.
Monique presents her wisdom in a fun, easy-reading, person-to-person style. And in a way that makes it easy for the "average" person to follow.
With MYKS!, she's pulled it all together into one comprehensive package that walks you through the entire process of selling what's in your head.
Monique and I show how to...
pinpoint what you know,
find out who else wants to know it, and
create an infoproduct that those other folks will buy.
And then...
sell it successfully, again and again.
Hi Ken,
Ken, I've been lecturing and writing on this subject for years. I didn't think I could put it all into a single book, but here it is -- the whole process, so that anyone can follow in my path, step by step!
Regards,
Monique
All you have to do is read it. And heed it. If you do, I guarantee Monique's collected knowledge will enable you to Make Your Knowledge Sell!
Now, more about that idea farm I promised...
What's different about this book? It gives you a "brain shovel,"
not just a brain "dump"...
How do you start writing your own book, so you can begin to profit from it on the Internet? What you need is a "brain shovel".
This is the key -- Make Your Knowledge Sell! is a brain showel, not a brain dump! Isn't that why you haven't written your first book already?
So many people are simply overwhelmed by that initial question... What to write about? Then, where do you start? How do you take that big pile of info and give it form and turn it into a genuine infoproduct? And finally, how do you sell and ship it?
Just ask Monique. As she did it, she learned. And...
... Bingo!
Remember what I said about not realizing how much you have learned? She realized! And she put all that knowledge down in this book.
MYKS! has all the powerful techniques she developed for focusing on saleable subjects within you.
Not only did she learn by doing it... she did it again. And again.
Let's get you started right now...
What is it that you love to talk about? A hobby? What do you do for fun and games?
What do you do day after day, without even thinking about it (like, child-rearing) -- think about what you tend to do in a typical day, and what you've learned from it.
What sections of a book store or a magazine shop do you automatically gravitate toward? What kind of TV shows do you tend to like most? Movies?
Got the idea? GREAT! Monique's exercises go much further to strengthen and push the envelope. But see how far you've come already?
This could be the start of something big...as in "big selling"!
Now let's take your subject and build it out to book size...
What else is in MYKS! for you?
A thousand ways to stretch your knowledge into a product worth
thousands of dollars!
Once you've got the subject, Monique maps the entire infopublishing field for you, so you can take the ball and run.
She covers infoproducts from every angle, so whatever your style of thinking and working, MYKS! is perfectly matched to you. There are action steps, references and resources, worksheets, checklists, starting points for "blue sky" thinking, the works.
People who are familiar with our SiteSell! products know that I truly believe in OVERdelivering, and MYKS! is no exception. Everywhere I could, I've inserted these additional tips based upon my own experience.
Tips from Monique. Tips from me. And a wealth of information from us. Working in tandem, we've carefully prepared it all for maximum usability by you. Welcome to the team!
Everything is here. Really, all you have to do is...
read it...
and do it.
Just like Monique did...
Except, you have one huge advantage!
From Day One, Make Your Knowledge Sell! puts you light years ahead of Monique's own starting point. And, if she became a successful, profitable author, I know you can.
With MYKS!, you have the know-how, and you have the tools. Don't be surprised if you see me in line for your product!
All the best,



President, SiteSell.com 
Free Download!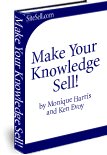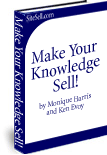 Make Your Knowledge Sell! (MYKS!) Is Now FREE!
There's a book in everyone. Each of us lives a life of unique circumstances and experiences that results in building a body of knowledge... knowledge that has value and that can be packaged and sold to others.
Make Your Knowledge Sell! shows you how to find "the infoproduct within," how to create and publish it, and how to market and sell it.
Formerly sold for $49.95, MYKS! is now totally free. Why? The skill set you acquire is too basic, do-able and important not to give it away.
Of course, we're hoping you like it so much you decide to try SBI! next and use it to build more than just a Web site...
Build a site that delivers results and drives your business.
You too can join the "Top 1%" online.
Ready to get started on your e-book or infoproduct?
Click here to start reading MYKS! today.
(Right-click the above link to download the PDF file.)
---
P.S. PREselling-and-then-selling is a "1-2" power strategy that is core to building traffic and earning income on the Net...
Content

Traffic

PREsell

Monetize
When you use the right thinking... and the right process... you get profitable results!
Make Your Content PREsell! (MYCPS!) shows you how to write to communicate and connect with (i.e., PREsell) your visitors. It covers that critical period of relationship-building before the sale.
Click here for your free copy.
(Right-click the above link to download the PDF file.)
SiteSell's Make Your Words Sell! (MYWS!) covers "writing to sell."
Complete your "writing" education. Click here for your free copy of MYWS!.
(Right-click the above link to download the PDF file.)