Help your Teen Become a Teenpreneur, Develop Life Skills And Build a Profitable Online Business
Do you have a teenage child in your life? Are you worried about the many hours he or she spends online, doing nothing but playing video games, chatting with friends or browsing memes on Tumblr?
None of that builds critical life skills to help separate him/her from others. Even school itself lags in that department.
Nudge your teen gently into a more productive direction, where he or she...
builds a business of value
gets a sense of purpose
grows more confident by getting a leg up in the world
develops invaluable 21st century life skills, and
earns an income to fund a hobby or even college tuition. (Don't miss the story below of the teen who bought her first horse with income from her business.)
Think this is impossible? With the right support system, starting an online business as a teen is totally doable. We'll show you a real-life example in a moment. First, what do we mean by "support system?"...
You! No matter how mature your 15 year old may seem, s/he still needs your input, your help, and probably a gentle push every now and again. (No tech stuff, though.)
Solo Build It! (SBI!). This all-in-one product (taught at several colleges) provides all your teen needs to create a profitable online business: a proven process, easy-to-use tools (no tech skills needed!), a helpful forum community, 24/7 support and auto-updating.
Now all that's missing is the topic. What is your teen really into, or even crazy about? It's best to explain the rest with an example...
Sydney Englund is crazy about horses. She started her teenpreneur career with SBI! at the age of only 9. She sums up what she likes most about it...

"I enjoy being a teen entrepreneur - a "teenpreneur." It allows me the opportunity not only to do what I love, but to provide a service that other people enjoy.

I've met girls around the world online, and when they come to my site they are happy to be part of this community. It's a great feeling!

I also love the program I'm creating to give back and help support horse rescue organizations. Plus it has made me a more focused, organized, driven individual."
Sydney's mom Gerri explains how valuable the experience was for both of them...
"I've seen an enormous change in Sydney's skills and confidence as a result of the work she's done on her website. And I love that we've been able to bond over her business."
For younger people, Solo Build It! is not just a business-builder. The skills SBI! teaches are essential for Sydney's generation ("Generation Z"). Studies show that Gen Z and post millennials will be increasingly made up of independent, mobile workers.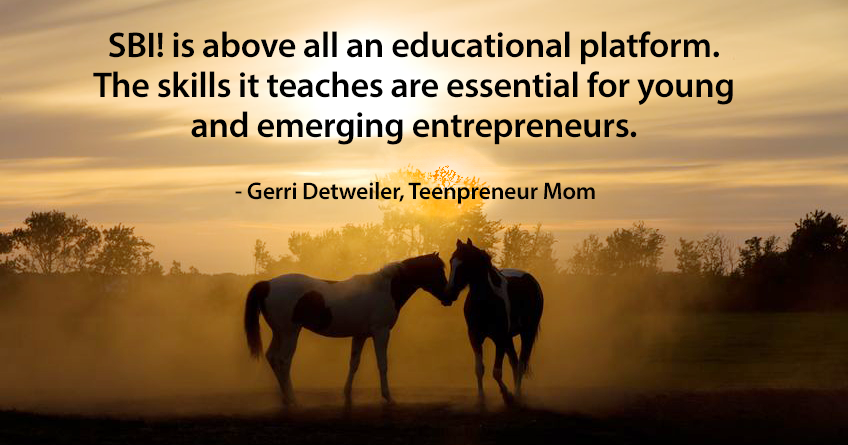 Kids don't learn anything like this in school. Not the technical and Internet marketing skills. Not the business chops. And certainly not how to think like an entrepreneur.
Consider the value of starting a project like this from scratch, based purely on something your teen already knows and loves. You provide a little guidance, honest feedback and occasional reminders (those drop off pretty fast).
It is impossible to overstate how much your teen will get out of building his/her own online business. Adults use SBI! to build their own businesses. And your teen may do the same (heck, may even pay for college!).
But when it comes to teens, the unique range of skillsets is just as valuable. It's something s/he'll build on for years and decades. Ready to find out more?
Take a look at Sydney's interview. Then check out what SBI! offers in more detail. The time you invest now could change your teen's (or pre-teen's) future forever.