Big Claims, No Proof. So Let's Look
Neither Wealthy Affiliate nor its affiliates provide any verifiable evidence of success. We always have, loads of it.
In fact, we suspected that Wealthy Affiliate was leading solopreneurs to failure, not success.
Whom should you trust your future with? Which product delivers success and which delivers failure? Only a head-to-head study could answer these questions clearly.
This was simple to test...
Take every active SBI! and Wealthy Affiliate site.
Measure their traffic using 3 traffic tools.
Tabulate and show the results.
Which Is Best for Solopreneurs?
Wealthy Affiliate or SBI!?
The results in a nutshell:
1) SBI! sites are 33 times (33X) more likely to achieve "Outstanding - Excellent" levels of traffic than Wealthy Affiliate sites.
2) SBI! sites are 10 times (10X) more likely to achieve "Medium" levels of traffic than Wealthy Affiliate sites.
3) 87% of Wealthy Affiliate sites are "Invisible." This is the only category where Wealthy Affiliate "beats" SBI! (i.e., in the worst level of failure - "Invisible" - they get no detectable traffic).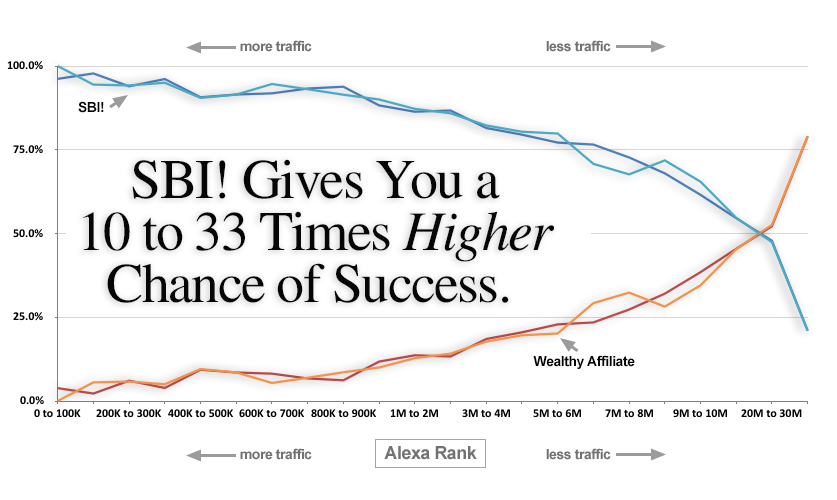 You now know that SBI! gives you a 10 to 33 times higher chance of success than Wealthy Affiliate.
SBI! is, in fact, the best product on the market for building a profitable, long-term online business, one that you can be proud of. No one provides proof of that like we do. Our competitors would if they could - it's what marketers do, after all.
But, you may ask, "If those results are true, why are so many people still recommending Wealthy Affiliate?" Good question. The answer lies in...