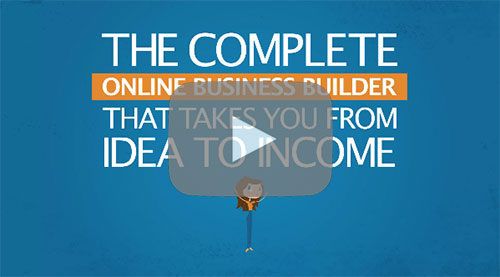 SBI!... Real. Simple. Success.
What Is SBI!?
SBI! is the ONLY all-in-1 package of process, software, guidance, & help that enables would-be solopreneurs to build profitable online BUSINESSES.
"Why do you say 'ONLY'? What makes SBI! so unique?" SBI! owners ("SBIers") succeed at unmatched rates and income levels.
"How does SBI! accomplish those results?" We condense the overwhelming and ever-changing complexity of ebiz-building into ONE all-you-need system of process/tools/guidance that flat-out works.
Anybody can put up a professional-looking website nowadays. Huge companies like Wix spend a ton to make you believe your site or blog is your business. It's not - not even close..
Building a website correctly is just one step out of 10 in SBI!'s comprehensive, biz-building process. SBI! guides you methodically through every part of building a business...
from the beginning (evaluating, picking and refining your business concept)
to the "end" (growing the largest and most stable income possible).
Even a solid, step-by-step process is not enough to assure success. You also need...
the right tools for certain key steps.
to be kept up-to-date on what matters (so you don't have to waste time reading all that's going on).
help by a community that cares. Everyone works off the same "playbook," so if you have a question, someone else has been there and has the answer. And here's a nice bonus - no one tries to sell you a thing!
SBI! includes it all...

Process
Step-by-step video and written guides help you every step of the way, guiding you through the most effective web business building process available.
Software
All the tools you need to complete the steps to grow your increasingly profitable e-business.

Always Up To Date
All SBI! software updates are free and automatic. We also track hundreds of e-business news sources for you, adding new, need-to-know nuggets to SBI!, keeping you informed and on the leading edge.

Support
24x7 SiteSell Support and business-building assistance at the unmatchable, near-legendary "help and be helped" SBI! forums, our community of success oriented entrepreneurs.
You Need More than a SiteBuilder & Hosting
to Build a Profitable Online Business
Building a site or blog, if it is to become a business, is the "easy part." The hard parts are 1) the planning and 2) the traffic-building and 3) the monetization (converting traffic into income).
99% of e-businesses fail at the critical "hard parts." If you fail at those, your site or blog fails. If you execute them well, your online business thrives. To get them right...
Use the only all-in-1 product that provides all you need (process, tools, updating, help) to build long-term, profitable e-businesses... businesses with high intrinsic value, equity that you can ultimately sell, just like well-built offline businesses.
SBIers build businesses with growing income & equity. Invest just 30 min's on this demo video🎥 - you'll understand how to use SBI! to achieve life-changing freedom.
🎥 Take the Video Tour to See
Exactly How to Build A Business Online
Do more than "learn how." Do more than merely putting up yet another site or blog that "sits there." Start and build a real business.
The right process, the right tools that remove all the barriers and mysteries, correctly applied at the right time. That is how you grow an online business with increasing long-term profits.
That is how SBI! works.
To see it in action, take the 30 minute video tour. It explains everything.

You will understand how and why SBI! delivers what it promises... your best chance at e-business success. SBI! works... if you work it.
Now it's up to you. You CAN do the same.
---
And NOW You Can Do It Using WordPress, Too!


If you use WordPress and already know all about SBI, click here for SBI! for WordPress.. Or...
Keep reading to fully understand SBI!'s proven business-building prowess. The ultimate Content Management System and the unmatchable Business-Building System are finally together.
Prosperity, Passion, Priorities,
Freedom And Family
SBI! is all of that and more to these people...
Each SBI! owner below has achieved life-changing goals. Click on anyone to understand how s/he did it, and how SBI! enables you to do the same, even if you are a total newbie.
What common thread connects these solopreneurs (aside from their success)? They came to SiteSell with a ready-to-work, determined attitude. NONE expected it to be "EASY"...
The "It's Easy" Myth
SBI! empowers you to build profitable online businesses, with a uniquely high percentage of success...
Our track record is a quantum leap better than whoever is 2nd best.

We have 20 years of experience with solopreneurs, longer than any other company.
So we've seen "quick and easy" techniques come and go. They alway do GO, to be replaced by new, false promises. Now, more than ever, "easy" won't cut it.
Please trust us when we say, "It's NOT easy" It takes work to achieve business success.
We can (and do) simplify it... yes.
We make it DO-able by breaking it all down into best-practice, optimally-ordered steps... yes.
But can SBI! make biz-building "easy?" No - if it were easy, we'd all be rich.😉
100% FOCUS, 0% "FOMO"
Our flagship product, SBI! ("Solo Build It!"), provides the exact, step-by-step always up-to-date process that enables you to succeed, as well as the tools you need, and guidance if you need it.
The process, called "C

T

P

M," has evolved over a span of 15 years. It has integrated EVERY new Internet development (ex., RSS, Web 2.0/user-generated content, social media, mobile, etc).
We update and refine the process regularly...
SBI! has a long list of "firsts," from concepts like "PREselling" and "content marketing" to Content 2.0 (the first product online to enable visitors to contribute like a mini-Facebook, except better). "C2" pushed online businesses to heights never before possible.


Another example is the complete re-development of a new sitebuilder, BlockBuilder 2 - a multi-year, multi-million dollar development so SBIers could better capitalize upon new trends and site-building needs that were (and are) coming.


One last example, because AUTO-updating is an important advantage of SBI!. When mobile started growing rapidly, there were several theories about the best way to do a mobile version of one's website. Do a 2nd version under its own subdomain? Many wasted considerable time on complicated "mobile solutions."

We resisted the hype and urgency. We waited. For what? Google. When they announced that "RESPONSIVE DESIGN" was the optimal/preferred way to "do mobile," we took that direction (see right).
Updating is a critical part of keeping SBIers ahead of the competition. HOW we do it varies. Sometimes we lead. Sometimes we wait. Either way, we save SBIers time. They don't waste their time on...
reading and keeping up on new trends and technologies
wasting time by taking the wrong action (ex., building a mobile version prematurely).
getting conned into incredibly convincing "Get Rich Quick" schemes.
We could go on and on, but suffice it to say that, like any complex organism in a changing environment, the wonderfully flexible C

T

P

M has proven to be an adaptable approach that gets stronger with each major evolutionary change...
On top of that, we track hundreds of blogs, newsletters and social media so that you don't have to try to figure it all out. You get only the best info, tucked into the system for the moment you need it, keeping you distraction-free.
The Result? Maximum Business Progress...
We save you every second possible. TIME is every solopreneur's most precious asset, your biggest constraint. SBI! enables you to pour it all into what matters most (your business!)...
Not into reading to "keep up." Not following bad advice. Not wasting money on bad products. The evergreen, yet ever-evolving/updating, combination of process & tools keeps SBI! solopreneurs ("SBIers") ahead of the pack, moving you ahead as time-and-dollar-efficiently as possible...
In a fast-moving Internet where you can't afford to miss something or make a wrong choice ("FOMO"), eliminating that anxiety is huge. Putting 100% of your time into growing your business, confident that we have your back, is one of the most important things that we do for SBIers.

If you use WordPress, here is the GREAT NEWS we've promised!
If you do not, skip this section & continue below.

Finally, SBI! Brings Business-Building Success to WordPress
Have You Struggled to Generate Income With WordPress?
You Are
Not

Alone

(and It's Not WordPress' Fault)

WordPress is the most widely used Content Management System in the world. Its plugin capabilities extend its blogging and sitebuilding functionality enormously. But WordPress is not (and was never meant to be) a complete BUSINESS-building system of process, software (beyond plugins), & guidance.

For example, WordPress does not come with a business-building Action Guide. It does not have the detailed research tools that you need to make the best niche decisions possible. Nor do traffic-building, social media, or monetization (key business-building steps) "belong" to WordPress.

It's no wonder that studies show the same low solopreneur success rates for WordPress users. Most fail for all the same reasons 👉 A gorgeous website is not the same as a thriving online business. Solopreneurs can fail at so many points, dooming their futures even though they have a sensational site or blog. So that brings up the obvious question...
"What is SBI! for WP And
How Does It Prevent or Turn Around My Failure?"
SBI! for WP combines WordPress and your hosting with a version of SBI! that includes all the business-building steps. It only excludes the SBI! sitebuilder and SBI!'s hosting (you already have that). In other words, SBI! for WP adds all the business-building steps and tools that you need to succeed.
The price of SBI! for WP is 50% less (since you provide your own hosting and WordPress). SBI for WP! is otherwise identical to what has made such a high percentage of SBIers successful.
Read more about SBI for WP here. Or just start NOW with the Free 30-Day Trial...
Simply follow the Action Guide, fix what's wrong, add what's missing. OR... If you are starting a brand new business concept, you'll do it correctly from the very first planning step, all the way to "money in the bank."
Turn your WordPress-built site into a Top 0.5% online business! Join the ranks of "The Successful Solopreneur"...
How Do You Know If SBI! Is Right For YOU?
We all love "It's Easy" stories. We want to believe that easy success is possible. That's why lotteries are so successful.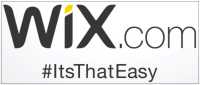 Large companies now advertise to the mass market that making money online is easy. They grow huge by marketing dreams - there are millions of Wix sites. Most people jump on "what's easy." No need to make the sacrifices that hard work requires - especially when hashtags tell them "#ItsThatEasy."
On the other hand, there are only thousands of SBIers. The knowledge that business-building requires work quickly weeds out 99%...
Heck, you're probably still not with us by now, reading along. If you got this far, you may be perfect for SBI!. 😉
The immutable laws of business state that it can never be "that easy" to build a profitable business.
It probably would be for football legends such as Brett Favre. It doesn't work out that way for the rest of us.
Even if large companies claim that building profitable online businesses "#IsThatEasy," it's not...
If it was, we'd all be as wealthy as Brett Favre!
So if you believe that building a profitable online business, one with real equity in it, can be easy, please stop reading now. That is not what we offer. Just to be clear...
SBI! helps you build profitable Web businesses, NOT just websites or blogs (which are just are one piece of the bigger online business jigsaw puzzle). Yes, any primate can put up a website nowadays. But a website's not a business. It just sits there. It does NOT generate #income or #equity. It takes one heck of a lot more to build a profitable online business.
A teeny fraction of solopreneur-built SITES become successful BUSINESSES. This results page and various studies show that SBI! businesses succeed 10 times more often, at higher income levels.
Putting It Bluntly...
It's NOT "that easy," not if "it" refers to building an online BUSINESS that brings you life-changing goals. Even though we have condensed and simplified SBI! into an all-in-one product, building a business takes work. If you are serious about building an online business, you've come to the right place.
There is no proven-better way to do it.
But if you just want to build a site or blog, you don't need SBI! for that. Anyone can do that, using any product. 100% will finish with a site, no matter where you go (does not matter - Wix, Yola, WordPress, GoDaddy, etc.). But a site is no more an online business than an empty office or storefront is an offline one.
There's a heck of a lot more work to be done. The large companies don't include the information, process, tools, community that you need to convert a site into a profitable business. Not to mention that building a site first is out-of-order. The proper steps in the right order will either...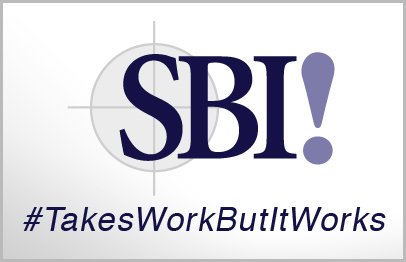 save your business idea, preventing outright failure
at a minimum, make a substantial difference to your profitability.
Some companies throw in some tools and articles with their hosting and sitebuilding. It's not the all-in-one, committed-to-your-success, up-to-date business-building system that you need to grow a profitable web-based business.
Online business has an obvious goal. Only we provide detailed proof of delivering on that goal. Isn't that what it's all about?
Bottom Line...
We live in an age of "I want it all now"...
Most folks prefer to believe "maybe it really is that easy."
That's OK with us. Our small SBI! community is a special one... realistic, ready, motivated and focused on winning.
If you have the discipline of impulse gratification and the determination to truly build a profitable online business...

P.S. A Message From Ken Evoy, Founder Of SiteSell.com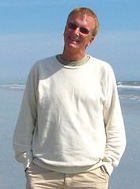 Despite having the best (the only) product of its kind, you and I have a problem. And it's the same problem. Here it is...
Even though SBI! costs less than $1 per day, the average person researches for more than 3 months (years, even!) before committing to SBI!.
There are 3 reasons for this...
Wrapping It Up...
Why Build A Site Or Blog When You Could Build A Business?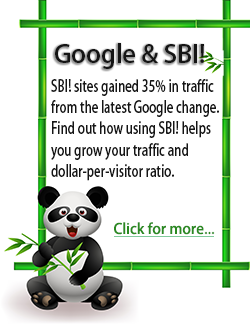 Offline, a place of business (ex., an office, studio, store) is not "the business." Business only develops...
if you have prepared well
if you attract customers
if you prove expertise and provide value (winning trust)
if you establish relationships/likeability
if you monetize effectively.
We all know that is true for offline business. Even after 20 years, though, a funny thing happens "digitally"...
Online, though, everyone seems to forget that a site or blog is NOT a business. It is just a site or blog, sitting there. Have you prepared well beforehand? Are you able to build traffic? Do you have a monetization plan?
While SBI! does teach you THE optimal structure for your site, the biggest reasons for its unparalleled business success is everything EXCEPT the site...
SBIers build businesses, not mere sites or blogs. There are hundreds of faster ways than SBI! to put up (yet another ineffective) site or blog. But there is no better way to build a winning e-business than SBI!.
The Bottom Line?
SBI! just flat-out works. You now know enough to get started.
Have doubts? The best way to eliminate doubts which lead to procrastination, is to just try it (risk-free!).
Naturally, most people won't try it...
Most will not have read this far. In that case, they are part of "most people" who aren't willing to work hard enough to build their own lives through business.
Some will doubt it, for whatever reason. Although they could simply try it to see for themselves, they can't get past some kind of doubt.
Whatever the concern, simply trying it ends all doubt.
In the end, this website sorts out who's right for SBI!. To those who are motivated enough to try it, you'll make fine SBIers. This is where it gets exciting for you and for us. There are only 2 possible outcomes...
You may find that SBI! is not how you want to do business. It's not for everyone - we'll refund and thank you immediately. OR...
You may find that SBI! fits perfectly. You are about to embark upon a life-changing fork in the road of your life. We're honored to do it with you.
Ready? Just get started, right now, totally risk-free.
If SBI! is not for you, just cancel and refund, no reason needed....
You are protected by the Money-Back, "Confidence of Success" Guarantee.
Total risk = $0.
Strong upside. No downside.
All you have to do is...