Don't Let Fake Solo Build It! Reviews Hurt You
Affiliates of Wealthy Affiliate ("WA") are leading you to failure with fake reviews about Solo Build It! ("SBI!")...
Some "reviews" trash SBI!. Others pretend to be objective (even kind!).
It doesn't matter what they write, though...
Because it's not about us - it's about you! They know you searched for reviews about Solo Build It!.
Their SBI! reviews are lures. What's the real goal?
Earn a commission by tricking you into buying WA.
Here's how WA Affiliates work and how this hurts your future...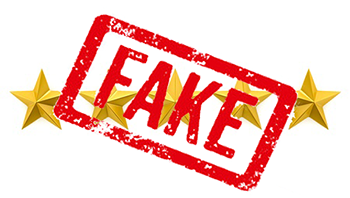 Hundreds pretend to write "honest reviews" about SBI!.
A few rank highly for your "Solo Built It! review" search.
You click on a search result and believe it's a real review...
It's not. You have, instead, entered a WA sales funnel.
You believe their "#1 Recommendation" and buy WA.
That's when your chances of high-traffic success drop by 97%.
The affiliate earns huge commissions.
You work hard, but spin your wheels (reason below).
You give up in despair, bitter that "the Net is a scam."
Rinse and repeat. WA affiliates keep sucking others in.
It's more than dirty tricks. It is misleading advertising. It is illegal. You may be wondering, though...
"Is Wealthy Affiliate Better than Solo Build It!"?
No one has ever claimed to be better than SBI! at enabling solopreneur success. We have always presented mountains of verifiable proof of success. "Trickery" is impossible with this many different types of proof...
Volume (500 sites in Top 1M of all active sites — 170M!).
Longevity (case studies about real people who build real businesses for 10+ years, adding updates as they grow profits AND equity).
New stories from our blog, with a focus on the human aspect of the SBI! experience.
No one else proves it like this. They would if they could.
Now, though, WA affiliates are writing tons of reviews about SBI!. And curiously...
They all recommend WA over SBI!, and...
They all offer zero proof of success?
This smelled like a scam to us, but "what if?" Could it be true?...
Which Is Better?
The answer is easy to test. We constructed a simple, objective head-to-head study to find out.
Take every active SBI! and WA site.
Measure the traffic of all sites using 3 different traffic tools.
Tabulate and show the results...
Solo Build It! is 33X Better!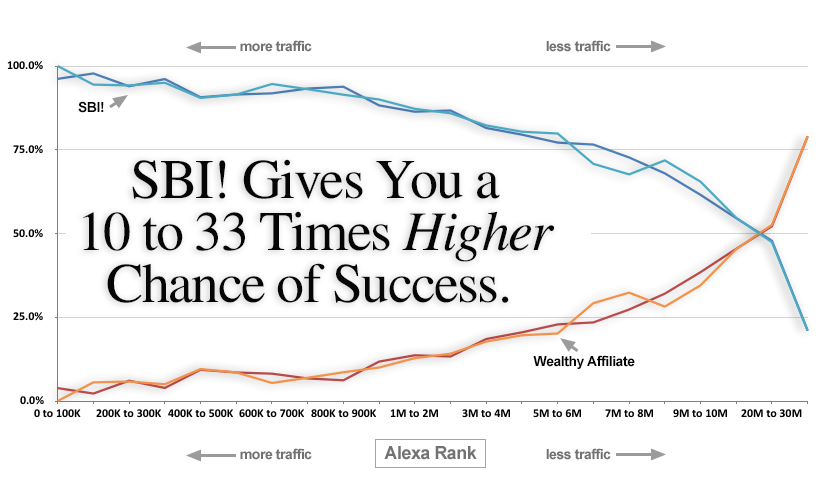 The results from all 3 traffic tools were unanimous...
SBI! is 33X more likely to help you build a high-traffic site.
Yes, you read that correctly. Here's the raw data...
Out of 16,814 WA sites, only 38 sites were high-traffic!
And even worse, 87% of WA sites were "Invisible" (i.e., undetectable by the traffic-measuring tools).
Those recommendations by WA affiliates do you no favors.
The Dark Side of Affiliate Marketing
You now know SBI! is not just better than WA, it's the best. No one provides proof of that like we do (see above).
They would if they could - it's what marketers do, after all.
However, there is something deeper going on...
We have alerted all WA affiliates (with high search rankings) about The Study's results - twice. Sadly, most leave their "reviews" & recommendations up.
They knowingly hurt your goals and dreams - for a commission. That will sound brutally unbelievable to any honest person, but consider typical responses to our alerts...
"Why are you attacking us?"
"Your study is bad."
"I don't believe it."
"I have a right to give my opinion."
The Study is as simple and as solid as a rock. Just measure the traffic to all sites and compare the results.
Those affiliates now know how much their recommendations hurt your chances of success. They can do the study themselves if they don't believe it. Here's what we believe...
Ignorance of illegality is not an excuse.
Ignoring immorality is inexcusable.
No one has a constitutional right to fake a review in order to sell a competing product. The fact that they knowingly recommend a product that has 3% of the high-traffic effectiveness of SBI! only makes it worse.
More About The Study
The difference between SBI! and WA did not surprise us. The size of the difference did. So we repeated it, a full month later - same results.
It is easy to perform this study. But we have not seen WA or WA affiliates publish their tests.
You can do it yourself, too. Or, to see the full process and results, please read the full study here.
Where To From Here?
If you have the courage to commit, we believe you deserve full access to all of SBI! AND a refund if you and SBI! aren't a "fit." (WA offers NO refund, just a time-wasting "freemium," a standard sales-getting game. We don't play games.)
Get started with SBI! today. You may find that SBI! is not right for you. That's fine - we'll refund you in full during the first 90 days (monthly subscriptions, too), pro-rata after that.
There is no such thing as "Get Rich Quick." (If there was, who would sell it?) If you have BAM, though, nothing is more do-able and more likely than SBI! to enable you to succeed....
Use The 90 Day Guarantee as your risk-free trial.